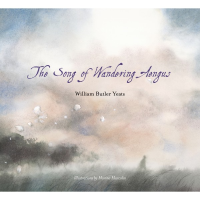 The Song of Wandering Aengus
ISBN: 978-1-906907-81-5
Cover: Paperback
Lavishly-illustrated gift picture book – a cross-over title that will appeal to adults and young people.
William Butler Yeats was one of Ireland's most revered writers, and a major voice in 20th century poetry in the English language. His early work, of which The Song of Wandering Aengus is one of his most beautiful examples, was steeped in the ancient tales of the Irish Gaelic tradition. To celebrate the upcoming
75th anniversary of the poet's death in 2014, and the 150th anniversary of his birth in 2015, Futa Fata is proud to present this picture book interpretation of one of Yeats' most enduring evocations of love and loss.
The book is lovingly illustrated in ethereal watercolours by one of Italy's finest picture book artists, Marina Marcolin.