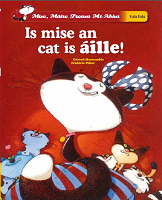 Is mise an cat is áille!
Mise Máire Treasa Mí Abha!
ISBN: 9781906907839
Year published: 2013
Cover: Paperback
Máire Treasa doesn't want to take part in the Cat Pageant but Mom ,Dad and Sibéal are very keen. Then Máire Treasa spots her sworn enemy, the snooty Miribéal – now, she's just got to win. But how?
If you've ever owned a cat, you'll love the anarchic adventures of our Máire Treasa Mí Abha!
Patricia Mac Eoin's translation in lively, accessible Irish recreates this French series in a wonderfully vivid way, introducing an unforgettable new character to Irish readers.