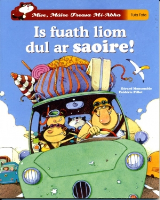 Is fuath liom dul ar saoire!
Mise Máire Treasa Mí Abha!
ISBN: 9781906907822
Year published: 2013
Cover: Paperback
Why would anyone want to go on holiday, when you can stay at home in your own comfortable house? Máire Treasa tries to dodge the holiday trip, to no avail...
If you've ever owned a cat, you'll love the anarchic adventures of our Máire Treasa Mí Abha!
Patricia Mac Eoin's translation in lively, accessible Irish recreates this French series in a wonderfully vivid way, introducing an unforgettable new character to Irish readers.