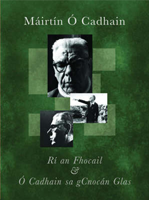 Rí an Fhocail agus Ó Cadhain sa gCnocán Glas
ISBN: 9781905560219
Year published: 2007
Two programmes which celebrate the life and work of the writer Máirtín Ó Cadhain. Rí an Fhocail was commissioned by RTÉ in 2006 and explores Ó Cadhain's writing and places it in the context of his own life and times. It includes interviews with writers Micheál Ó Conghaile, Joe Steve Ó Neachtain and Louis de Paor, and also features dramatic interpretations of extracts from his work as well as archive footage. It was named best Irish language television programme at the Irish Film and Television Awards 2007 and best arts programme at the Celtic Film Festival 2006.
Máirtín Ó Cadhain sa gCnocán Glas presents a more personal portrait of Ó Cadhain. The programme, first broadcast in 1967 and now remastered by RTÉ Libraries and Archives, was recorded west of Spiddal in An Cnocán Glas where he grew up. Ó Cadhain is the guide and introduces the viewer to the places of his youth, the people of his home, their lifestyle and their language; the many influences which helped to shape his life and work.
Both films are in Irish with English subtitles.