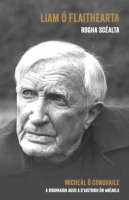 Liam Ó Flaithearta: Rogha Scéalta

Oiriúnach d'Ardrang 1/C1 nó níos airde
Suitable for Advanced 1/C1 or higher
ISBN: 9781784442064
Cover: Paperback
Liam Ó Flaithearta is best known as a writer in English. The Aran Islands native (1896–1984) published over a dozen novels and nearly two hundred short stories in English during his lifetime but just one collection of short stories in Irish, Dúil (1953).
This book went on to have a lasting impact on readers of Irish-language literature and not just because it spent many years on school and university curricula. A common topic of debate regarding Ó Flaithearta's work is whether his work in Irish was even better than his writing in English. And what relationship exists, if any, between his writing in Irish and in English? Another issue is why he published most of his work in English in the first place.
All that aside, it is worth taking another look at Ó Flaithearta's work through the eyes of the Irish speaker and in this book Micheál Ó Conghaile has translated his selection of Ó Flaithearta's short stories. The collection includes thirty-three short stories, in which themes like the hardship of life for people living in the Irish islands, the role of women in society, his distinctive view of the clergy and the Catholic church, and his fascination with nature.