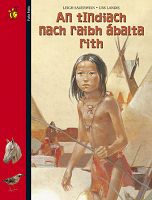 An tIndiach Nach Raibh Ábalta Rith
ISBN: 9781906907426
Year published: 2011
Cover: Paperback
Húcalla is not like the other boys in the Dakota Indian tribe – he was born with a limp. He will never be a brave warrior like his father. But through his love of nature, Húcalla discovers that he has a valuable talent of his own....
Written by North Carolina, America born writer Leigh Sauerwein and beautifully illustrated by Swiss artist Urs Landis, this Irish edition has been translated by Róisín Ní Mhianáin.
This heart warming story is an ideal gift for independent readers aged 9+.