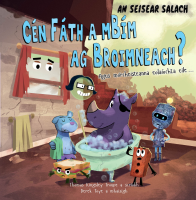 Cén Fáth a mBím ag Broimneach?
ISBN: 97818579199202
Year published: 2016
Cover: Paperback
Gordys taking a bath, when a stinky bubble floats to the surface. Gordy wonders, Why do bubbles come out of my body? When the bubble starts talking, it takes the gang on a journey that lifts the lid on how the human digestive tract works.