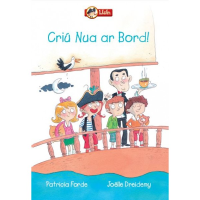 Lisín - Criú Nua ar Bord!
ISBN: 9781910945223
Cover: Paperback
The fourth title in the Lísín series, sees the pirate girl Lísín very excited that her posh classmates are coming to stay a night on board her floating home. But it's the same night as Mum, Dad and Gran are going to the annual Pirates' Dance! Gran is particularly excited to meet again an old friend she hasn't seen in ages.
When the grown-ups leave and the kids arrive, trouble brews when one of the posh kids loosens the mooring rope and the Magic Dragon drifts out to sea. The situation gets even more serious when they meet another pirate ship out at sea, captained by a pirate who even scares Lísín...