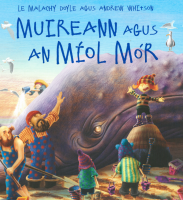 Muireann agus an Míol Mór
Malachy Doyle And Andrew Whitson
Cover: Hardback
Molly and Dylan are surprised when they come upon a whale on the beach.
Daddy shows them how to care for the whale while they are waiting for the sea to enter. The children and their friends work together to keep it wet and dig a ditch about it. Molly sings with her relaxation. But will they survive the whale?
The second book in the series which began with the high-profile book, Muireann and the Fharraige Fhiáin.A beautiful story written and decorated by two masters.