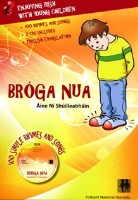 Bróga Nua
Enjoying Irish with Young Children - 100 Rhymes and Songs.
ISBN: 978-0-9567237
Cover: Paperback
A collection of 100 rhymes and songs in Irish with Englishtranslation.
Suitable for children to use on their own or parents, grandparents, teachers, crèche and preschool providers.
The book is aimed at all those who wish to introduce Irishin a fun and playful way.
You do not need to be an Irish speaker to use this resource. All instructions are in English. Includes two CDs.