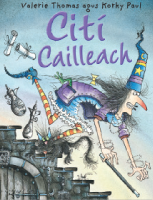 Cití Cailleach (Leabhar Mór)
Cover: Paperback
Cití - she's one weird witch!
An Irish translation by Liam Mac Cóil of Winne the Witch, which was published by Oxford University Press in 1987. This story is suitable for children aged 8 - 11 years.
Black is the colour. Cití's house has one colour scheme: black. Carpets, chairs, curtains, the lot. Her black cat blends right in, perhaps too much so, for when he closes his eyes Cití can't find him.
Cití will take you under her spell as she tries again and again with hilarious results to solve the recurring problem of her companion's whereabouts.