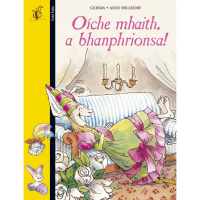 Oíche Mhaith a bhanphrionsa!
ISBN: 9781906907419
Year published: 2011
Cover: Paperback
Béibhinn the princess is an extremely light sleeper. How can she win the hand in marriage of a prince who has a mysterious problem of his own? Her sleep deprived parents worry that Béibhinn will never find a husband. Béibhinn however is hopeful of wooing her Prince despite her sleep problem.
Originally written in French by Giorda with detailed and entertaining illustration by Anne Wilsdorf, this Irish Edition has been beautifully translated by Patricia Mac Eoin.
A fun and quirky take on a classic story; this book is an ideal gift for independent readers aged 7+ years.