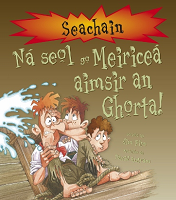 Seachain! Ná seol go Meiriceá aimsir an Ghorta!
ISBN: 9781906907433
Year published: 2013
Cover: Paperback
It's hard work feeding your family on your farm in the 1840s, but when a disease wipes out your potato crop, you must all escape the horrors of the Famine. But first, you have to get to America....
A lively new range of books that looks at key events from history in an entertaining and informative way, by inviting young readers to imagine being part of great events of the past. Full of information that children will absorb, while enjoying the fun text and illustrations.