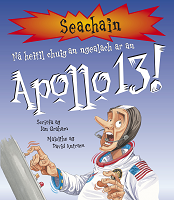 Seachain! Na heitil chuig an ngealach ar an Apollo 13!
ISBN: 139781906907457
Year published: 2013
Cover: Paperback
If your heart is set on flying to the moon, Apollo 13 is definitely not the best mission to join!
Get ready... you are about to embark on the most exciting and perilous journey in the history of space travel, on the APOLLO 13! It is 1970 and you are an American astronaut setting out on the voyage of a lifetime to the Moon. Humorous cartoon-style illustrations and the narrative approach encourage readers to follow the story from the safety of Planet Earth and into outer space.
A lively new range of books that looks at key events from history in an entertaining and informative way, by inviting young readers to imagine being part of great events of the past. Full of information that children will absorb, while enjoying the fun text and illustrations.