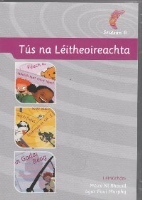 Tús na Léitheoireachta (DVD Séideán Sí)
ISBN: 9781857917789
Cover: Paperback
Several teachers from both Gaelscoils and Gaeltacht schools offer their advice on different approaches to teaching children to read for the first time.
Suggestions from Caitríona Uí Bhéarra, a teacher from Scoil Sailearna in Galway, with regards to promoting reading in all-Irish and Gaeltacht schools.
Suggestions from Bairbre Mhic Dhonncha, Principal of Scoil Náisiúnta Cholmcille in Galway, with regards to the organisation of books.
Advice from parents on teaching reading to children.