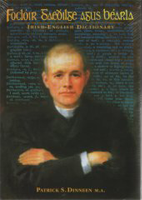 Foclóir Gaedhilge Agus Béarla Dinneen
Irish-English Dictionary - Dinneen
ISBN: 1-870-16600-0
Year published: 1927
Cover: Hardback
Many people are of the opinion that this dictionary, published in the early years of the last century, is one of the best dictionaries ever produced in Irish. It contains many words and definitions not found in the other main dictionaries. This is the entry regarding the word "iarmhaireacht", for example:
"state of being a remnant or reduced; loneliness, the loneliness felt at cock-crow"
The dictionary contains many more such gems.