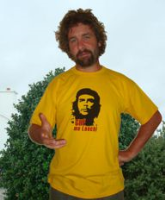 Ché Guevara - Ché Is My Hero - T-Shirt
A variation of the opening words of a very popular Irish song, "Sé mo laoch, mo ghile mear'.
The "Sé mo laoch" of the song means literally "He is my hero". Our t-shirt slogan, (pronounced exactly the same) means "Ché, my hero".